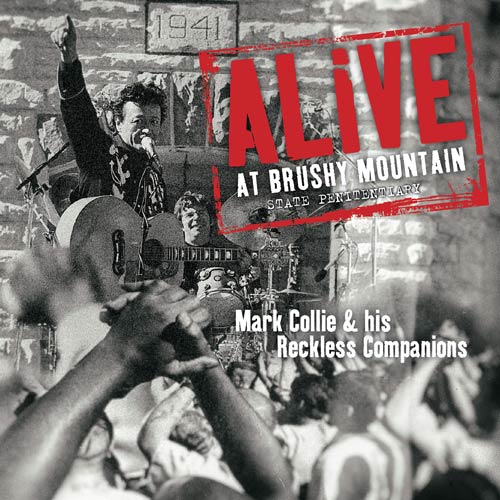 ALIVE AT BRUSHY MOUNTAIN
Singer-songwriter Mark Collie, with the accompaniment of an elite band of musicians, was spurred to perform at Tennessee's Brushy Mountain State Penitentiary – one of America's most notorious penal institutions up until its closing in 2009. The reason: to spread the infectious vibe of hope and redemption.
Features "Someday My Luck Will Change", "Got A Feelin' For Ya", and more! Also appearances by Kelly Willis, Shawn Camp, and Clarence "GateMouth" Brown!
Available at: Amazon.com | iTunes | Target | Best Buy
Mark Collie has been exciting country music fans since he burst onto the scene in the 90s with his honky-tonk-meets-rockabilly style. With five major label albums and sixteen songs on the "Hot Country Songs" chart to his name, Collie has also penned songs for Garth Brooks, Tim McGraw, Aaron Tippin, George Jones, and Alabama to name a few, and currently stars as Frankie Gray on the hit TV series Nashville.
Drawing inspiration from country icon (and good friend) Johnny Cash, Collie took note of not only Cash's celebrated 1968-69 live albums recorded at California's Folsom and San Quentin prisons, but how his 1958 performance affected Inmate #A-45200: the man the world now knows as Merle Haggard. "Without Johnny going to San Quentin," Collie says, "there might not have been a Merle Haggard. A lot of lives were changed or made better as a result of that music."
Mark Collie & His Reckless Companions provided an unforgettable music event, and Alive At Brushy Mountain State Penitentiary captures it beautifully.
Sandy
By Chris Carpenter - CBN God can use anything and anyone to achieve His purposes.  Acclaimed country singer Mark Collie is a prime example of this.  Known for writing hit songs for Garth Brooks and Tim McGraw, as well as carving out a nice singing and acting career for himself, Collie has been on an [...]
James
The doors at Brushy Mountain State Penitentiary have been closed for seven years, since 2009. However, once upon a time, the facility was a place that you didn't want to enter if you were in the Volunteer State. The maximum-security prison was home to some of the South's most hardened criminals. And, in 1999, it [...]
James
Veteran country singer/songwriter hoped to "maybe shine some light into some darker areas of our world." Perseverance usually pays off, and veteran singer/songwriter/actor Mark Collie's latest project is proof. It's been 15 years since Collie visited Brushy Mountain State Penitentiary to perform for inmates at the maximum-security Tennessee prison. That recording is finally being released [...]